Latest News
Viewing: All news
Page: 1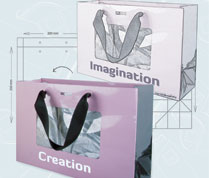 16th July 2014
Our bespoke laminate bags are 100% customisable, cost effective and can be delivered in as little as ten working days.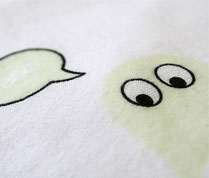 Be memorable even with the lights out with our glow in the dark special effect!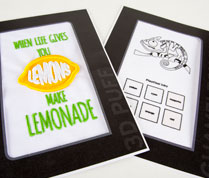 Our popular special effects range are an eye-catching way to offer a wide selection of options to your clients, creating unique and distinctive products and branding.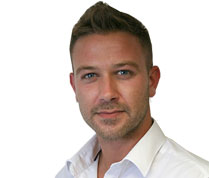 Screenworks are delighted to welcome Adam Clouting to the team as the new Bespoke Sales Manager.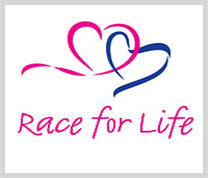 14th July 2014
More of our Screenworks ladies have joined the 'Gillies Girlies' Team in the fight to beat cancer.
Nicole Simpson (Sales Account Manager) and Chloe Dolby (Sales Support) are joining Kayleigh Smeed, Harriet Coles, Rachel MacPhail, Alison Clift-Lands and Amanda Moody to run the Cambridge 5k Race for Life this weekend.
Kayleigh's 2-year-old son Sebastian and Amanda's two Daughters Grace, aged 7 and Lexie-Mai aged 4, are also taking part in the race!
The team has already raised over £400! But would love to reach £500 or more!
Visit the team's Just Giving Page here.
Chloe is taking part in the race for the first time;
"I've never ran the Race for Life before but I'm very excited as it's for a great cause and having had a family member beat cancer makes me more determined. All the girls are getting into the spirit and dressing up for the occasion so it will be a good giggle."
Nicole ran the Race for Life last year with the Screenworks team;
"I am running the race again as it is for a very good cause and is very close to all of our hearts. Taking part in something so big and worth-while feels amazing! I am very much looking forward to the race with my friends and making a great day of it!"
The Gillies Girls are dressing up in an 80's pink theme for the race with t-shirts, sweatbands and headbands!
Good luck girls!!
Stay tuned to hear how they get on this weekend!
Visit the team's Just Giving Page here.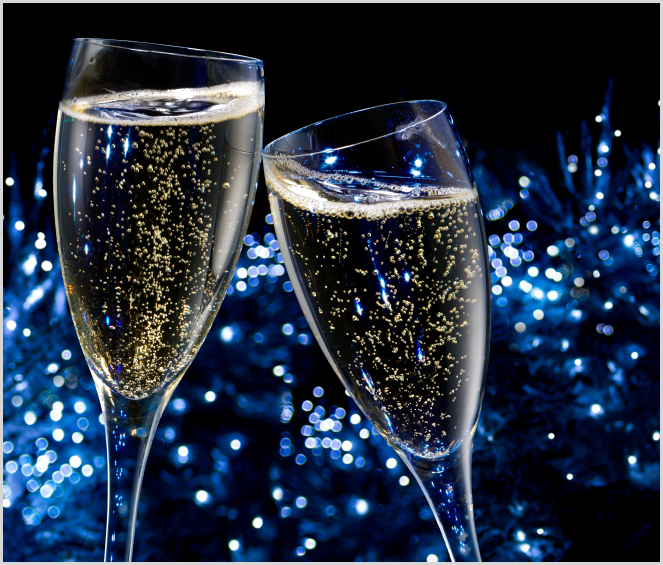 01st July 2014
To mark our 23rd birthday we welcome you to join in with our celebrations this month and take advantage of our exclusive special offer!
We are offering 5% off the carton rate on selected items in our American Apparel range below throughout July, as well as FREE* set up costs for the first 23 orders.
There is also a FREE* bottle of bubbly up for grabs for the first order placed! For a chance to win, request your quote now.

Proud to be in business 23 years on…
Screenworks was built on solid foundations of passion, experience and expertise. We were founded in July 1991 by Andrew Gilmour, who started out with over 30 years of industry experience and a degree in textile design. Read more.
In 2000 Duncan Gilmour joined us as Managing Director to lead our committed workforce that is focused on quality, skills and excellent customer service as we continue to be one of the UK's leading promotional clothing suppliers.
Duncan comments;
"We have experienced steady positive growth every year since our journey began and we continue to be inundated with orders!
We put our continued success down to our strong service ethic and extensive background knowledge. Our team works hard to understand each customer's needs and the requirements of each project so that we can continue to exceed expectations for the next 23 years and beyond."
Special Anniversary Offer!
This celebratory special offer applies to 3 versatile American Apparel garments this month:
AA001 Unisex fine jersey short sleeve t-shirt.
•    Standard cut unisex t-shirt
•    Ultra-soft, 30 singles, 100% combed cotton fine jersey
•    Available in 12 colours: Asphalt, Black, Eggplant, Gold, Heather Grey, Kelly green, Navy, red, Royal Blue, Slate, Turquoise, White
AA002 Unisex Polycotton short sleeve Crew Neck t-shirt.
•    Classic short sleeve t-shirt
•    Unique 50% combed cotton, 50% polyester blend
•    Features a durable rib neckband and slim-fit
•    Available in 12 colours: Asphalt, Black, Black Aqua, Heather Black, Heather Forest, Heather Imperial Purple, Heather Lake Blue Navy, Orchid, Red, Sunshine, White
AA004 Unisex flex fleece zip hoodie
•    Fitted, sporty unisex hoodie
•    Unique flex fleece 50/50, combed cotton fleece/polyester blend
•    Features a metal zipper closure, white polyester drawcord and kangaroo pockets
•    Available in over 20 colours!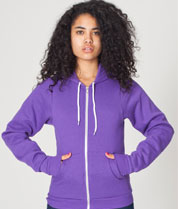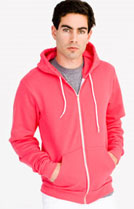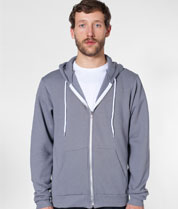 Speak to our dedicated team on 0845 366 9757 or email sales@screenworks.co.uk to discuss garment decoration options and how we can tailor these items to your clients individual needs.
Terms & Conditions
*Offer only available from the 1st July 2014 to the 31st July 2014. For the first 23 orders Screenworks will cover the set up costs up to a maximum cost of £100. Any extra cost is chargeable to the client. There is a minimum spend of £250 on all orders to be eligible for the free set-up cost and the 5% discount offered and the order must be made up entirely of the mentioned products. Some form of decoration must be added to the garments on all orders placed, all print and decoration is chargeable to the client at the normal rate. All orders and lead times are subject to stock and production availability. Free bottle of champagne for the client placing the first order. The client receiving this prize must be over 18 years of age. The winner will be notified via email upon confirmation on placing their order, the winner must be open to publicity. Offer only open to residents in the UK. All entrants must be over 18. Employees of the competition prize giver, immediate family members and associated companies are not eligible to enter the competition. No cash equivalent will be offered for this prize.